Blow the Shofar in Zion, and sound an alarm on My Holy Mountain!  Let all the inhabitants of the land tremble, For the day of the LORD, is coming; Surely it is near… (Joel 2:1)
The Feast of Trumpets falls on Sept 21, 2017, and Yom Kippur is 10 days later….
The U.N. declared International Day of Peace "just happens" to be September 21, 2017. The Theme this year "just happens" to be peace and safety.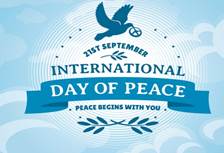 It is 70 years from 1947 which was the rebirth of Israel. – On 29 November 1947, the UN General Assembly adopted the Plan as Resolution 181
It is the 50th anniversary or year of Jubilee for Jerusalem. It was liberated in 1967 when Jerusalem was recaptured by Israel from the Jordanians. Fifty years earlier Jerusalem was liberated by Allenby in 1917 and 400 years earlier in the Turks conquered Jerusalem in 1517.
It is the 70th anniversary of the Dead Sea Scrolls – early 1947
It is the 100th anniversary of the Balfour declaration – On November 2, 1917, Foreign Secretary Arthur James Balfour writes a letter expressing the British government's support for a Jewish homeland in Palestine.
It is the 120th anniversary of the First Zionist Congress – "In Basel, I founded the Jewish state," Zionist visionary Theodor Herzl said in 1897 of the First Zionist Congress.
It is the 500th anniversary of the Reformation – Catholics and Lutherans will celebrate Reformation Day Oct 31st, 2017 in Jerusalem. They will begin to set aside differences that started with Luther actions on Oct 31, 1517, in Wittenberg Germany.
It is 120 Jubilees from Adam.
It is 40 Jubilees since Christ's death.
It is 70 Jubilees since Exodus (1483 B.C).
It marks year 5777 on the Jewish calendar.
So we pay attention and we note the time….for God moves in time and with design and order.
No – I make no attempt to interpret the mind of God and His inscrutable plans. I do know that 'coincidence" is not a Kosher word….We only pray to be part of whatever He plans to do among His people and we prepare spiritually.